Implant Dentistry Washington DC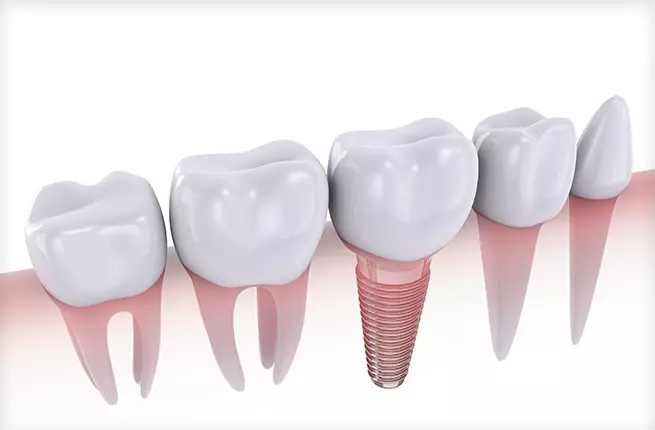 Dental Implants
Dental implants are the preferred way to replace missing teeth. From the front of the mouth, where they are most visible, to the back, where they provide the stability for chewing, implant dentistry can help you recapture a beautiful, functional smile. Unlike bridges or dentures, which sit on top of gums, dental implants are placed beneath the gums. The "tooth" placed on an implant looks like a real tooth, because it comes through the gums just like the original! Dental Implants can be used to replace any number of lost teeth. Even those without teeth can greatly benefit from implants, because they can replace dentures with teeth that stay in place while talking and don't need to be removed while sleeping. Because our prosthodontist in Washington, DC handles everything from implant placement to crown fabrication, there's no need to be referred to another dental office. We also employ computer-guided surgery to ensure the best possible outcomes for our patients, and an in-house lab to ensure the highest quality results in the fastest possible time.
Implant-supported teeth look and function just like real teeth and are maintained with the same oral hygiene practices, such as brushing and flossing. By permanently replacing missing teeth – and lost gum tissues – implant-supported teeth restore the support of the facial structures (cheeks and lips), thereby creating a more youthful appearance as well as the ability to function normally. This includes chewing hard foods, eating fresh fruits and vegetables, laughing, kissing, speaking confidently, and smiling with joy.
Treating Facial Trauma
Many of our patients are victims of some trauma that caused damage to their teeth and other oral structures. In many of these cases, dental implants are the best option for restoring their smiles, or even making them better than before. Implants prevent the loss of jawbone density and volume that is inevitable when teeth are lost. They stabilize and stimulate the bone around them, maintaining bone dimension and strength. We also utilize other materials, such as pink porcelain, that can replicate the original structure and provide a very natural-looking result. We invite you to review our Smile Gallery page to view some of our actual cases.
Actual Patient Before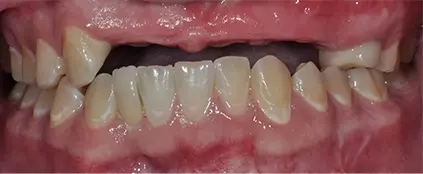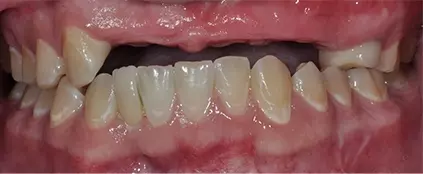 Actual Patient After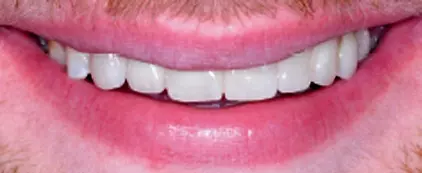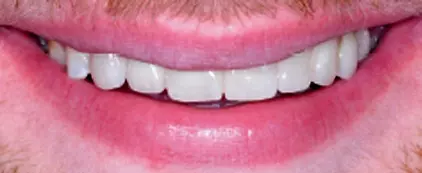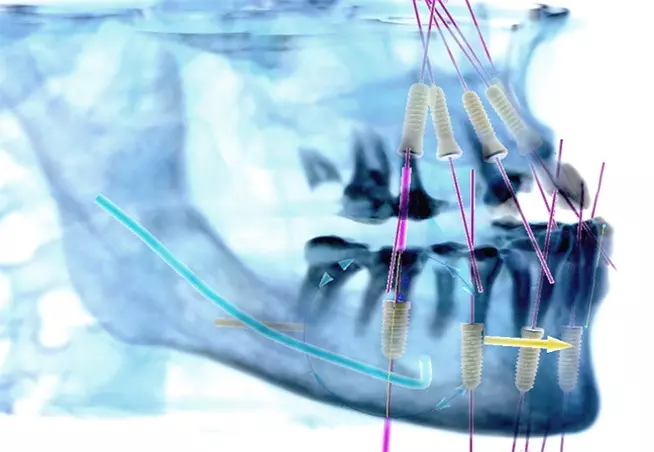 Three-Dimensional Dental X-rays
We are excited as one of the first dental practices in our area to utilize 3-D cone beam CT digital imaging. Imagine a three-dimensional X-ray that is more accurate than traditional X-rays, is much faster, and does all this with much reduced radiation exposure.
A primary advantage of ultra cone beam images when diagnosing and evaluating treatment options is the dentist's ability to see the patient's anatomy in 3-D, instead of flat, two-dimensional images. This allows for much greater accuracy for any dental treatment, especially dental implant placement and oral surgeries. The process takes only a few minutes, and images are captured in multiple cross sections, which allows us to make accurate bone measurements.
Teeth in a Day
Traditionally, dental implant surgery and the restoration of the implants is a two-stage process. However, in selected cases, implants can be restored on the same day of implant surgery. With proper planning and provided there is enough bone, a patient can have implant surgery in the morning and walk out in the afternoon with a beautiful smile already screwed into their implants. It is teamwork between the surgeon and the prosthodontist. Today you can walk into our practice with a set of dentures or failing teeth and leave a few hours later with implants and a brand-new smile attached to them!
Actual Patient Before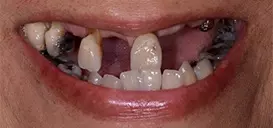 Computer-Guided Surgery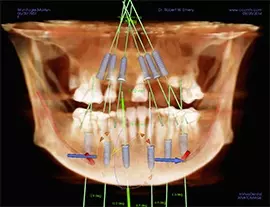 Actual Patient After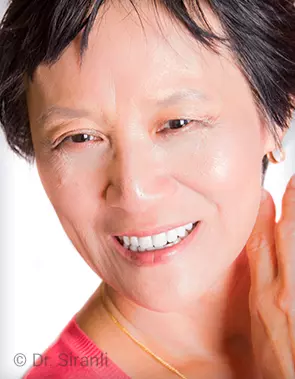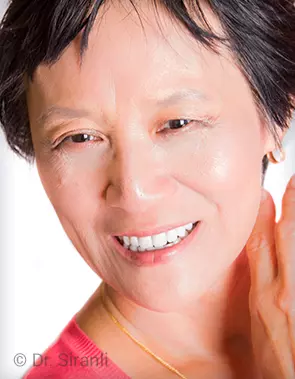 Computer-Guided Surgery
Computer-guided surgery, with the aid of modern and increasingly sophisticated software, enables the surgeon to plan the operation by means of a computer program, step by step, starting from a proper dental CT scan. It also allows very accurate transformation of this virtual surgery to a non-traumatic and micro-invasive real surgery.
After the 3-D CT scan of the dental area to be treated is completed, this scan will be imported into a highly technological software program that will elaborate two- and three-dimensional anatomical structures, enabling us to carry out a virtual computer simulation. We plan the implant placement and prosthetic structure precisely to a tenth of a millimeter. Other additional advantages of this method are the possibility of preventing surgical risk, the speed of this operation, and the rehabilitation period of the patient without the impact characteristics of traditional techniques.
Don't live with missing teeth any longer! Call (202) 296-3330 for a no-obligation implant consultation today to determine your suitability for implant dentistry in Washington, DC.